Using Ozonated Olive Oil for Teeth and Gums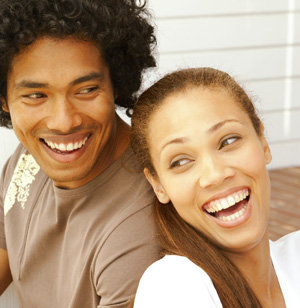 Using ozonated olive oil for teeth and gums has jumped in popularity thanks to several articles about the potential benefits. Dr. Mercola recently wrote that ozonated olive oil is good for everyday dental hygiene. So what can ozonated olive oil do?

Ozone is known for its power in killing bacteria, viruses and fungi, as well as odors and a plethora of other problems. It has been shown to promote healing by offering a soothing treatment for fungal infections, dermatitis, infection sites, periodontal pockets and more. It's safely used for air and water purification and in treatment centers around the world. Because the mouth can breed viruses and bacteria, ozonated olive oil offers a fast and easy way to apply ozone directly where it's needed.

Several dentists have noted the possible advantages of ozonated olive oil for fighting cold sores and relieving the pain they cause. People already using ozonated olive oil for teeth have noted success against tooth decay, gingivitis and cracked lips.
How is PurO3 ozonated olive oil made?
Organic, extra virgin olive oil is slowly infused with ozone until it is fully saturated and becomes a gel. This is done by passing medical grade oxygen through the best cold plasma ozone generators available. This ensures pure, fresh ozonated oil. The oil allows the ozone to stay viable. The end result is an oxygenated gel with a cornucopia of uses.
How does ozonated olive oil taste?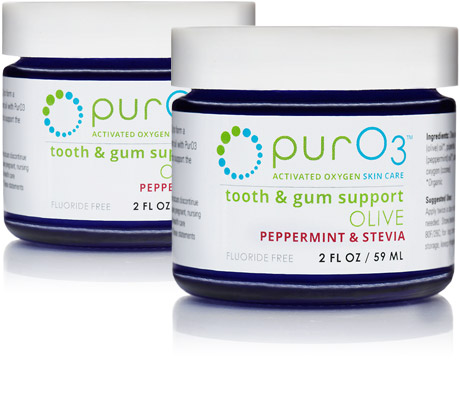 That depends on the person. Some of us don't mind the taste and some of us do. Many of the articles we've read mention the taste as the only negative. To counter this, we created PurO3 Tooth & Gum Support which combines our usual high quality organic ozonated olive oil with organic peppermint oil. It's also available with organic Stevia and peppermint. We're split in the office over which one is better but having a choice allows more people to find the right tooth and gum support for their individual needs.

If you've used our unscented ozonated olive oil on your teeth in the past and enjoy the taste, keep using it. If you want to try our PurO3 Tooth & Gum Support, check out our samples or go ahead and order a two ounce jar.

Either way, we'd love to hear from you about your experiences using ozonated olive oil for teeth and gums.


Sources
http://behmnaturaldentistry.com/natural-dentistry-services/ozone-treatment/
http://articles.mercola.com/sites/articles/archive/2013/02/24/invasive-dentistry-benefits.aspx
Related Article
Introducing PurO3 Tooth and Gum Support

Since several known health experts started recommending ozonated olive oil for teeth, we've seen a surge in interest. Most of us in the office use it for a variety of reasons and decided to test a handful of other organic oils to find a combination we really liked. [...]
Olive Oil

Olive oil has been used for centuries as a natural remedy for skin care needs and is still very popular today. It is a leading ingredient in a variety of lotions, soaps and other cosmetics. The most prized is extra virgin (cold pressed) olive oil which is the purest extract available because it comes from the first pressing of the olives. [...]
You must be logged in to comment.
PurO3 Ozonated Oils on Google+